Is Decompression Therapy an Effective Herniated Disc Treatment?
Is Decompression Therapy an Effective Herniated Disc Treatment?
Written By Gonstead Physical Medicine on October 9, 2020
---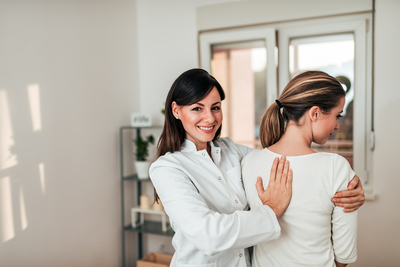 Do you have acute or chronic back pain? With 80% of Americans expected to experience back pain in their lifetime, it is one of the most common reasons to visit the doctor and seek relief. Specifically, herniated disc pain commonly affects 30-40-year-old people and results in 20 cases per 1,000 adults.
If you experience herniated discs, it's essential to find a non-surgical and non-invasive pain relief option to help you achieve optimal wellness. Let's discover if decompression therapy is right for you.
What are Herniated Discs?
Herniated discs refer to an issue with the rubbery cushions, also known as discs, that sit between your spinal vertebrae. Spinal discs play an important role in your lower back by acting as shock absorbers to give you a wider range of motion.
Each disc has a jelly-like nucleolus that's enclosed by an exterior annulus. A herniated disc occurs when part of the nucleus protrudes, and a tear in the annulus aggravates a nerve, triggering back pain. Herniated discs typically occur from general aging, injuries, or strenuous activities.
Herniated Discs Symptoms
Mostly occurring in the lower back, herniated disc symptoms often depend on the placement of the disc and if it's pressing on a nerve. Common herniated disc symptoms include:
Arm and leg pain
Tingling and numbness
Body weakness
Decompression Therapy for Herniated Discs
Decompression therapy gently stretches the spine and relieves herniated disc pain. Laying on a motorized table, your chiropractor gently stretches your spine to remove pressure and retract your herniated discs. In turn, you're able to simulate water, nutrient-rich fluids, and oxygen back into the discs to promote self-healing.
When you visit your Albuquerque chiropractor, they will build a customized decompression therapy treatment plan personalized to your pain. As a safe and natural alternative for herniated disc pain, you will achieve long-term wellness without needing over-the-counter prescription medication.
Discover Herniated Disc Pain Relief in Albuquerque
Herniated disc pain is uncomfortable and can disrupt your day-to-day life. When you visit Gonstead Physical Medicine, your doctor will conduct a physical and medical history examination to diagnose the root cause of your pain, so you receive the best decompression treatment for your pain.
Say goodbye to herniated disc pain! Schedule an appointment with Gonstead Physical Medicine today.

Posted In: Chiropractic Spinal Decompression